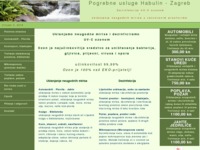 Dezinfekcija ozonom UV-C
Visits: 691
Added: 26.11.2012.
http://www.dezinfekcija-ozonom.com.hr
Description
Vaš stručnjak za uklanjanje neugodnih mirisa i dezinfekciju. Uklanjamo neugodne mirise, dezinficiramo i steriliziramo UV-C ozonom. Profesionalno uklanjanje mirisa, ulja, masti u kuhinjskim napama i ventilacijskim kanalima u gastronomiji.
Location
Location of this site was not found. If you know the address of this site, please contact the administrator.