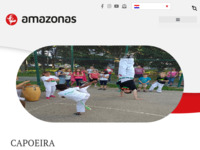 Capoeira Amazonas Zagreb
Visits: 838
Added: 7.1.2013.
http://www.amazonas.hr/capoeira
Description
Capoeira je afro-brazilska vještina u kojoj se isprepliću elementi borilačkih vještina, akrobatike, plesa i glazbe, kroz igru u nenasilnom okruženju. Nastala je fuzijom različitih kultura, a razvili su je afrički robovi u Brazilu kao izraz težnje za slobodom. Njeni afrički korjeni i danas se manifestiraju kroz muziku, pokrete i simboliku u samoj igri.
Location
Location of this site was not found. If you know the address of this site, please contact the administrator.