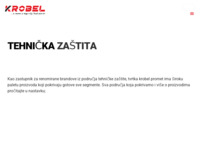 Krobel promet d.o.o.
Visits: 1116
Added: 17.1.2013.
Description
Krobel Promet d.o.o. se u proteklih dvadesetak godina razvio u jednog od vodećih distributera i providera cjelokupnih rješenja za integraciju sustava zaštite, videonadzora, telefonije, strukturnog mrežnog kabliranja, održavanja IT sustava i razvijanja cjelokupnih softverskih rješenja koja kroz svoju mrežu partnera distribuirmo diljem svjeta. Tvrtka je sa sjedištem u Đurmancu, a poslovnica je smještena u Zagrebu da bi se mogla pružiti što bolja dostupnost našim korisnicima te isto tako što bolja distribucija naše opreme.
Location
Location of this site was not found. If you know the address of this site, please contact the administrator.