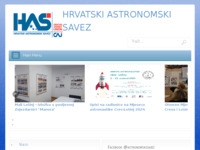 Croatian Astronomical Union
Visits: 1314
Added: 11.3.2013.
http://www.astronomskisavez.hr
Description
Hrvatski astronomski savez (HAS) je obnovljen Skupštinom od 18. prosinca 2009. godine u vrijeme Međunarodne astronomske godine od strane astronomskih društava iz Malog Lošinja, Rijeke, Višnjana, Korenice i Zadra. Kod obnove Ured za opću upravu je tražio da se kontaktiraju udruge osnivačice Saveza što je učinjeno pa su astronomska društva iz Koprivnice i Siska obnovile svoje članstvo u Savezu kao dvije od tri udruge osnivačice i time je Savez obnovljen i obavljen je upis promjena u Registru udruga Republike Hrvatske.
Location
Location of this site was not found. If you know the address of this site, please contact the administrator.