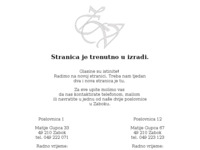 Jewelry Vrančić
Visits: 1050
Added: 22.3.2013.
http://www.zlatarna-vrancic.hr
Description
Jewellery Vrancic was founded in 1990. Beginner's crafts Boris Vrancic who masterfully craft learned in the old Zagreb master late 60-ies of the last century ...
Location
Location of this site was not found. If you know the address of this site, please contact the administrator.