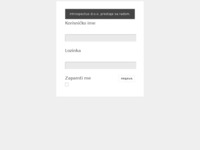 Introspectus d.o.o.
Visits: 506
Added: 7.6.2013.
http://www.introspectus-doo.hr/
Description
Djelujemo kao promidžbena i grafičko-dizajnerska tvrtka kojoj je cilj u što kraćem vremenskom razdoblju a što višom kvalitetom udovoljiti svojim klijentima. Naravno, s vremenom se razvijamo, kao i mnogi, ali glavna misao nam je dosljednost vrhunskom dizajnu, iznimnoj praktičnosti, kvalitetnom poslovnom savjetovanju i prepoznatljivoj susretljivosti.
Location
Location of this site was not found. If you know the address of this site, please contact the administrator.