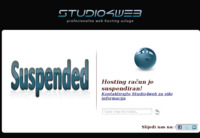 Soboslikar i ličilac Sinko Slavko
Visits: 584
Added: 3.9.2013.
http://www.soboslikar-sinko.hr
Description
Soboslikarsko – ličilači obrt Sinko Slavko sa iskustvom dužim od 20 godina, sa poslovanje po cijeloj Hrvatskoj, sluša ideje svojih klijenata i nudi kvalitetnu izradu soboslikarno-ličilačkih radova.
Location
Location of this site was not found. If you know the address of this site, please contact the administrator.