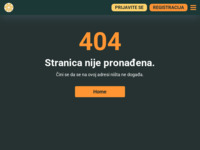 Radimo kućanske usluge za Vas
Visits: 869
Added: 13.9.2013.
http://www.binarnet.hr/radimo-kucanske-usluge-za-vas/
Description
Stajanje u predugim redovima zbog plaćanja računa za nekoga je pravi problem, posebice starijim ljudima. Nudim uslugu čekanja u redu i plaćanja računa na određenim šalterima kako bi izbjegli plaćanje provizije, odlazak u trgovinu umjesto Vas, paljenje svijeća / lampaša na groblju ako Vi niste u mogućnosti, voženje auta na pranje, unos podataka / prijepis na računalo, iznošenje smeća, dostavu, odlazak u ljekarnu i sl.
Location
Location of this site was not found. If you know the address of this site, please contact the administrator.