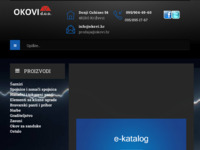 Dobro došli na stranice poduzeća Okovi d.o.o.
Visits: 1108
Added: 29.10.2013.
Description
Poduzeće OKOVI d.o.o. osnovano je 2009. godine, a nastalo je iz bravarskog obrta METALIS koji djeluje od 1989. godine. Osnovna djelatnost tvrtke je proizvodnja metalnih proizvoda te prerada lima i žice.
Location
Location of this site was not found. If you know the address of this site, please contact the administrator.