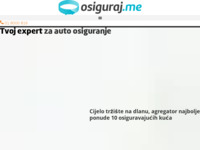 Velebit osiguranje d.d.
Visits: 868
Added: 4.12.2013.
Description
Velebit osiguranje d.d. svoje poslovanje vidi kao sustavan i kontinuiran rast i razvoj, temeljen na profesionalnosti svojih djelatnika, koji u partnerstvu s drugima, poštujući propise i pravila struke, te uvažavajući svoju zajednicu, žele osnažiti sigurnost pojedinca, ostvariti dobit i time odgovorno sudjelovati u stvaranju sigurnog društva.
Location
Location of this site was not found. If you know the address of this site, please contact the administrator.