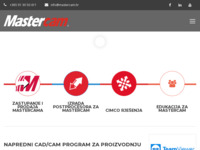 Mastercam Croatia authorized dealer, Camteh d.o.o.
Visits: 1955
Added: 18.12.2013.
Description
Mastercam Hrvatska, Camteh inženjering d.o.o., specijalist za područje CAM tehnologija, programiranje CNC obradnih strojeva, povezivanje u mreže i praćenje proizvodnje. Ovlašteno zastupanje Mastercam i Cimco proizvoda.
Location
Location of this site was not found. If you know the address of this site, please contact the administrator.