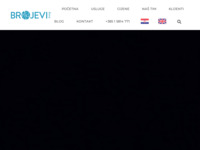 Računovodstvene i knjigovodstvene usluge Brojevi d.o.o.
Visits: 1061
Added: 29.1.2014.
Description
Znamo da je danas teško pronaći povoljnog i kvalitetnog računovođu. Želimo Vam ponuditi usluge koje uspješno obavljamo dugi niz godina na zadovoljstvo naših klijenata.
Location
Location of this site was not found. If you know the address of this site, please contact the administrator.