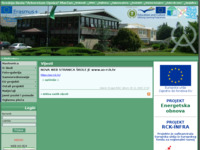 High School Arboretum Opeka Marčan
Visits: 907
Added: 19.3.2014.
http://www.ss-arboretumopeka-marcan.skole.hr/
Description
Prva vrtlarska škola u Hrvatskoj (1958.), upravo zbog blizine arboretuma koji svojom ljepotom i bogatstvom biljnih vrsta služi kao stalna učionica budućim vrtlarskim tehničarima i cvjećarima. To je jedna od najopremljenijih škola u Hrvatskoj za izvođenje praktične nastave iz poljoprivredne, veterinarske struke, te kuharstva. Smještena je u općini Vinica u Varaždinskoj županiji.
Location
Location of this site was not found. If you know the address of this site, please contact the administrator.