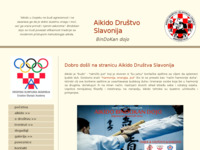 Aikido-Slavonija
Visits: 546
Added: 3.8.2014.
http://www.aikido-slavonija.hr
Description
The Japanese martial art, martial art, harmony with the opponent, self-defense and the armed gunman, control levers and opponent throws, Croatian Aikido Federation, Aikido World Headquarters.
Location
Location of this site was not found. If you know the address of this site, please contact the administrator.