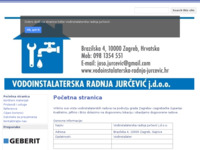 Plumber Jurčević Zagreb Gajnice
Visits: 965
Added: 17.8.2014.
http://www.vodoinstalaterska-radnja-jurcevic.hr
Description
Business Pages Plumbing action Jurcevic j.d.o.o. We perform all types of plumbing in the City of Zagreb and Zagreb County. Numerous references, satisfied users, diversity of supply and quality and fast execution of the agreed work are characteristics that give us a competitive advantage.
Location
Location of this site was not found. If you know the address of this site, please contact the administrator.