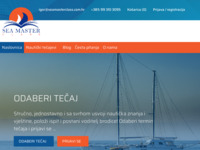 Boat skipper courses - Seamaster Class
Visits: 750
Added: 28.1.2015.
http://www.seamasterclass.com.hr
Description
We organize and maintaine courses for trainees to prepare them for boat skipper exams and we offer diferent tipes of education like group, individual, independent learning and online courses.
Location
Location of this site was not found. If you know the address of this site, please contact the administrator.