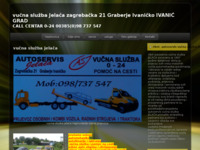 Towing service Jelača
Visits: 640
Added: 4.3.2015.
http://www.vucnasluzba-jelaca.hr
Description
Towing Service Jelača 0-24 provides transport of cars, vans, SUVs, light trucks, tractors, agricultural and construction machinery, caravans and boats in domestic and international transport. We provide towing vehicle as soon as possible regardless of the weather.
Location
Location of this site was not found. If you know the address of this site, please contact the administrator.