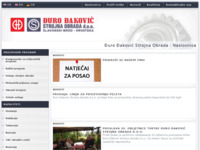 Duro Dakovic, Strojna obrada d.o.o.
Visits: 1939
Added: 3.3.2004.
Description
Duro Dakovic Strojna obrada d.o.o. is company placed in town Slavonski Brod in Croatia. We are specialized in machining and assembly of mechanical devices for power transmission, machine parts, contrivances and equipment in the field of general machining and machine parts fabrication.
Location
Location of this site was not found. If you know the address of this site, please contact the administrator.