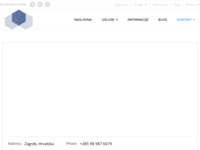 Bookkeeping
Visits: 479
Added: 8.6.2015.
http://www.knjigovodstvo-kralj.hr
Description
Bookkeeping of business papers which are fine with laws of Republika Hrvatska. Our service include payroll, closeing balance sheet, inputing od of incoming and outgoing invoices, makeing sheets for credit, makeing statistics, VATstatement, travel orders , help at founding the company. We are specialy focused on young operators and we are helping them in few first steps of business.
Location
Location of this site was not found. If you know the address of this site, please contact the administrator.