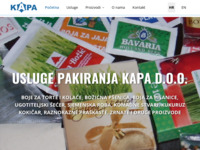 Packing services - we are packing powder, pack per piece or pack grainy - Kapa d.o.o.
Visits: 960
Added: 13.10.2015.
Description
Kapa d.o.o. is the combination of agriculture and packaging. We are packing powder, packing per piece or packing grainy.
Location
Location of this site was not found. If you know the address of this site, please contact the administrator.