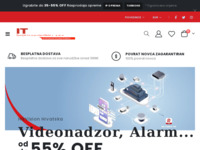 Urban rhythm - video surveillance - alarm.hr
Visits: 748
Added: 19.4.2016.
http://www.videonadzor-alarm.hr/
Description
Urban rhythm - video surveillance - alarm.hr is the page where you will find a range of quality and best cameras, recorders, equipment for video surveillance and alarm systems.
Location
Location of this site was not found. If you know the address of this site, please contact the administrator.