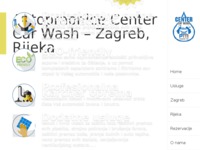 Car Wash - Parking Tim
Visits: 603
Added: 17.5.2016.
http://autopraonica.parkingtim.hr
Description
CAR WASH - PARKING TIM is a newly professional hand car wash, located in the center of Rijeka within the business and residential center Zagrad at garage's Zagrad level ground. As a reference company PARKING TIM Ltd. may include management of public garages, parking lots, consulting and elaboration of a study of various traffic solutions for numerous municipalities and cities, cooperation with international manufacturers of parking systems, etc. Our service is the end result of our efforts in a constant effort to improve the quality of it, and following this course we opened the CAR WASH - PARKING TIM at garage Zagrad. The main task of facility management is to increase efficiency, reduce operating costs and increase customer satisfaction. With a synthesis of knowledge and many years of experience we strive to elevate this segment of our offer by introducing innovations, providing the quality of service and the price in the best possible proportion in the pursuit of complete satisfaction of all users. Parking Tim's employees are the source of our strength. They actively participate in the creation of our reputation and our vitality. Teamwork is our basic human values, and mutual trust and respect are essential for the successful way to guide the business. Our commitment towards work and our customers is focus on everything we do, always bearing in mind primarily the interests of our customers. We hope that our vision and quality of service and innovation in the operational part of our business will be recognized and respected as well in the future by our current and new clients.
Location
Location of this site was not found. If you know the address of this site, please contact the administrator.