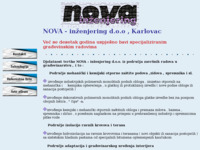 Nova-Inženjering d.o.o.
Visits: 1765
Added: 27.5.2003.
http://www.nova-inzenjering.htnet.hr/
Description
Special floors, chemichal or water resistant materials, anti-skating and other materials.Stores, hospitals, industry and other objects with special requiremants. Water isolating also.
Location
Location of this site was not found. If you know the address of this site, please contact the administrator.