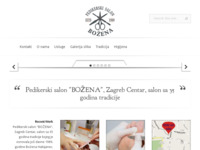 Nail and Feet salon Bozena
Visits: 322
Added: 19.1.2017.
http://www.pedikerski-salon-bozena.hr
Description
Feet salon "Božena" was founded in 1989. after longtime work and experience of ms. Božica Habijanec in feet salon ILLA in Radić street which was one of the first and best salons in Zagreb. Owner of the salon was famous because of ingrown nail treatment and was among the first whom introduced B/S brace treatment for ingrown nails. After finish nursing school in 2000. daugther Jelena joines the family business. In 2007 she acquires the status of master pedicurist. In the year 2012 Jelena takes over the family business.
Location
Location of this site was not found. If you know the address of this site, please contact the administrator.