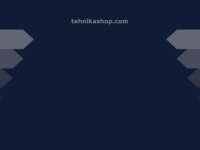 Tehnikashop.com - Saturo. d.o.o.
Visits: 651
Added: 27.1.2017.
Description
We offer products such as Miele washing machine, dryer, dishwasher or oven, vacuum cleaners, refrigerators, freezers, coffee machines that deliver durability of more than 20 years.
Location
Location of this site was not found. If you know the address of this site, please contact the administrator.