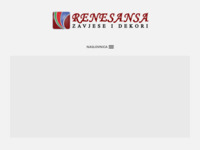 Curtains and decorations of Renesansa d.o.o.
Visits: 837
Added: 14.9.2017.
Description
Curtains complement your home making it warmer and more comfortable. So it's important to choose the right curtain. Let yourself be trusted with our experienced decorators, and together in our salon, choose the curtains to your degree. We offer a large selection of curtains, decorations, carnations, curtain curtains and blinds. For a modern equipped area we offer a package and a panel curtain. We are sewing curtains, decorations and custom-made chair covers. We also carry out the service of carnage installation and in agreement with our customers we also offer the service of washing and curtain maintenance. Measuring and decorating services are done free of charge. Renovate or equip a new apartment, house or business space with confidence. May the Renaissance also happen to you.
Location
Location of this site was not found. If you know the address of this site, please contact the administrator.