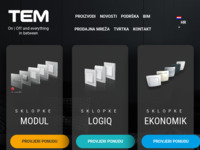 Unique switches and sockets - TEM Čatež d. d.
Visits: 1251
Added: 2.1.2018.
Description
At TEM Čatež we produce innovative and aesthetically pleaseing switches and sockets. We have been present in the market for more than 40 years.
Location
Location of this site was not found. If you know the address of this site, please contact the administrator.