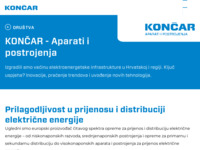 KONČAR - Switchgear, Inc.
Visits: 110
Added: 14.1.2019.
Description
KONČAR-Switchgear Inc. is a regional company for development and production of high-voltage apparatus and GIS, medium-voltage apparatus and gas-insulated or air-insulated switchgear, low-voltage switchgear and transformer stations, using modern materials and technologies.
Location
Location of this site was not found. If you know the address of this site, please contact the administrator.