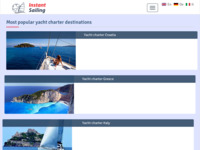 Yacht charter - Rent Sailboat, Catamaran or Motor Yacht - Instant Sailing
Visits: 47
Added: 30.8.2019.
https://www.instantsailing.com/
Description
Rent a boat among 9000+ yachts with our real-time yacht booking platform. Charter a yacht all over the world: Croatia, Greece, Italy, Turkey and 25 more countries
Location
Location of this site was not found. If you know the address of this site, please contact the administrator.