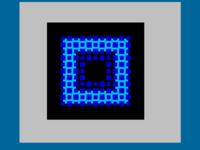 Vlatko Ceric - Computer Graphics
Visits: 2104
Added: 2.12.2005.
http://free-zg.htnet.hr/vceric/grafika/
Description
Computer graphics, in the range from geometric till complex visual structures, are created by programming and open view to unknown visual spaces. Links about computer graphics and important authors from this field are included.
Location
Location of this site was not found. If you know the address of this site, please contact the administrator.