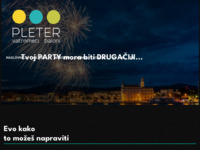 Pleter vatrometi d.o.o., Zagreb
Visits: 2218
Added: 24.6.2004.
http://www.pletervatrometi.hr/
Description
We are the company with 8 years experience in display fireworks, special efects, efects with latex balloons and all kind of decortaions. We also sell latex balloons.
Location
Location of this site was not found. If you know the address of this site, please contact the administrator.