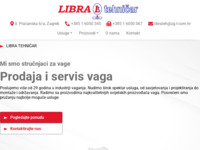 Libra Tehničar d.o.o.
Visits: 1658
Added: 5.4.2004.
Description
Lorry and rail weigh bridges scales, as well as digital and analogic measuring converters, belong to the basic program offered by our company.
Location
Location of this site was not found. If you know the address of this site, please contact the administrator.