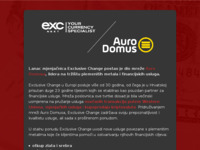 Exclusive Change d.o.o.
Visits: 1453
Added: 28.4.2005.
Description
Exclusive Change d.o.o. haas been operating for 12 years in the territory of Croatia and has a network of exchange offices all over Croatia.
Location
Location of this site was not found. If you know the address of this site, please contact the administrator.