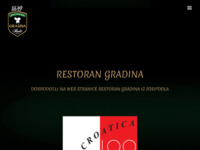 Restoran Gradina
Visits: 1048
Added: 2.6.2008.
http://www.restoran-gradina.hr
Description
Restoran "Gradina" Jospidol, na staroj cesti Zagreb - Senj vaše je idealno mjesto za predah u vožnji, grupni izlazak, vjenčanje, privantnu ili poslovnu svečanost.Vrhunski gastro i vinski užitak koji ćemo organizirati bez obzira na broj gostiju za nas je primaran i jedini zadatak.
Location
Location of this site was not found. If you know the address of this site, please contact the administrator.