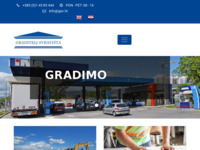 Graditelj svratsita - Poduzece za graditeljstvo, proizvodnju i usluge.
Visits: 2345
Added: 28.1.2005.
http://www.graditeljsvratista.hr/
Description
Poduzeće Graditelj svratišta je građevinska tvrtka za područje, niskogradnje, visokogradnje i završnih radova u graditeljstvu, proizvodnju aluminijske stolarije, trgovine i inženjering usluge.
Location
Location of this site was not found. If you know the address of this site, please contact the administrator.