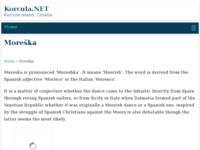 The Moreska sword dance
Visits: 6101
Added: 3.12.1998.
http://www.korcula.net/naselja/korcula/moreska.htm
Description
Today, Korcula is the only island where Moreska is still danced with real swords in its original War-Dance form and where it has enjoyed a proud and almost unbroken tradition for over four centuries, though the text, music and pattern of the dance have been slightly altered and shortened over the years.
Location
Location of this site was not found. If you know the address of this site, please contact the administrator.