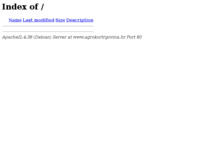 Agrokor Trade d.d.
Visits: 5782
Added: 11.7.2002.
http://www.agrokortrgovina.hr/
Description
The basic business of Agrokor trgovina d.d. is trading in agricultural products and foodstuffs. Over the last years the turnover showed the enviable growth rate of 10-20 per cent a year. The company's objective is to grow into the largest buyer of and dealer in cereals and animal feed components in the Republic of Croatia.
Location
Location of this site was not found. If you know the address of this site, please contact the administrator.