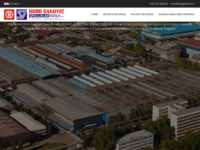 Duro Daković, Special vehicles d.d.
Visits: 2250
Added: 4.3.2004.
Description
The seat and production premises of Duro Daković, Special vehicles d.d. are located in Slavonski Brod. The experience in production of battle tank, as the most complex product in category of battle vehicles, has confirmed capability of our Company for dynamic interaction between our own know how and production potentials with know how and potential of other producers and research institutions, and has established all necessary requirements for the new world of productivity and efficiency, for implementation of quality assurance system, and the final integration and testing of the most complex systems, which all resulted in good product. The new product lines in the last few years challenge our potentials for change, while introduction of new technologies in the field of mechanical engineering and electronics demonstrate our readiness for diversification, primarily towards specialized production services, metal machining and launching of new program of civil engineering machinery: excavators and wheel loaders.
Location
Location of this site was not found. If you know the address of this site, please contact the administrator.