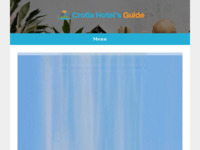 Croatia Hotels Guide
Visits: 14625
Added: 27.10.2005.
http://www.croatiahotelsguide.com/
Description
The exclusive web site Croatia Hotels Guide offers You detailed and actual information about all hotels in Croatia (Hilton, The Westin, Shearaton, Four Points, The Regent hotels) in Zagreb, Opatija, Dubrovnik and other great hotel destinations in Croatia.
Location
Location of this site was not found. If you know the address of this site, please contact the administrator.