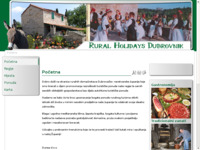 Rural households in Dubrovnik Neretva County
Visits: 1101
Added: 25.7.2007.
http://www.dubrovnikruralholidays.com
Description
Web site dubrovnikruralholidays.com contains the list of Dubrovnik Neretva County's rural households and specialized offer of each household with interactive County's map display for each of the locations. The web site was established by Dubrovnik Neretva County's Regional Development Agency Dunea with an aim to promote rural households as an integral part of autochthonous tourist offer and to present all aspects of toursit offer in our region.
Location
Location of this site was not found. If you know the address of this site, please contact the administrator.