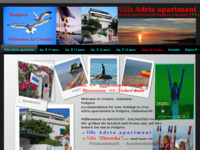 Podgora - apartements and rooms
Visits: 3283
Added: 2.7.2003.
http://www.dijano-pavlinovic.htnet.hr/
Description
Private accomodation in Podgora, apartaments and rooms by Fam. Dijano Pavlinovic. It is in the very center, 100 meters from beach. Only a couple of meters away there are shops, restaurants and cafes. There are three floors in our house and it is meant for 12 - 13 persons maximum.
Location
Location of this site was not found. If you know the address of this site, please contact the administrator.