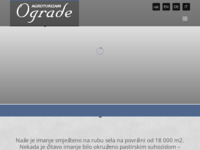 Agroturizam Ograde - Istra holiday
Visits: 1092
Added: 8.11.2005.
http://www.agroturizam-ograde.hr/
Description
Naše se domaćinstvo nalazi na području Grada Pazina, u mjestu Lindarski katun, 3 kilometra daleko od Žminja. Lindarski katun su u 15 st. naselili pastiri - ovčari koji su tu imali dobre uvjete za ispašu svojih stada.
Location
Location of this site was not found. If you know the address of this site, please contact the administrator.