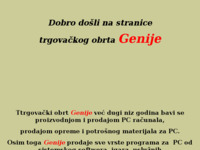 Trgovina računala Genije
Visits: 2362
Added: 23.8.2001.
http://free-ka.htnet.hr/genije
Description
Trgovački obrt čija je osnovna djelatnost prodaja PC računala poznatih proizvođača uz jamstvo i dostavu te osiguran servis. Osim već gotovih konfiguracija u našoj trgovini možete kupiti i pojedine komponente, te potrošni materijal i programe za Vaš posao. Sve navedeno moguće je kupiti na kredit.
Location
Location of this site was not found. If you know the address of this site, please contact the administrator.