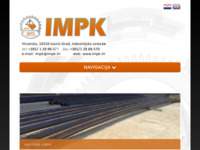 Industrija metalnih proizvoda i konstrukcija d.o.o.
Visits: 1838
Added: 24.11.2007.
Description
Since the year 2000 our firm works under the name IMPK - Industry of metal product and constructions d.o.o., which is now in the private property.We have continued the activity of metal altering in interconnected plant foundries, machine processings, locksmitheries, producing and insatlling PVC and ALU carpentries. Besides making the new equipment and parts, we do repairs and corrections of different plant equipments, as well as the locksmith work, services of machine processing on delivered material and making spare parts for the industry.
Location
Location of this site was not found. If you know the address of this site, please contact the administrator.