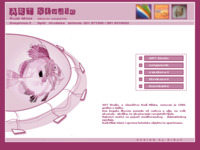 ART Studio
Visits: 8856
Added: 23.5.2004.
http://free-st.htnet.hr/Rudi-Milat/
Description
ART Studio, u vlasništvu Rudi Milata, osnovan je 1986. godine u Splitu.Ima bogatu likovnu ponudu od radova u ulju, na svili, akvarela - akrilika, te ukrašavanje rasvjetnih tijela. Najčešći motivi su sakralni te pejzaži mediteranskog ugođaja. Rudi Milat izlaže i oprema hotelske objekte te apartmane.
Location
Location of this site was not found. If you know the address of this site, please contact the administrator.