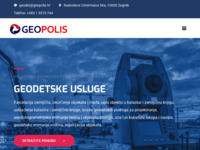 Geodetski ured Geopolis d.o.o.
Visits: 1518
Added: 16.6.2009.
Description
Geopolis d.o.o. je ovlaštena geodetska tvrtka sa sjedištem u Zagrebu, koja obavlja sve vrste geodetskih usluga i posluje na području cijele RH. Parcelacija zemljišta, posebna geodetska podloga, upis objekta u katastar i zemljišnu knjigu, iskolčenje građevina, obnova međa, etažiranje nekretnina, praćenje pomaka, geodetsko situacijski nacrti stvarnog stanja(situacije), snimanje vodova i izrada geodetskih elaborata za evidentiranje instalacija u katastru vodova, izrada preglednih karata različitih mjerila i sadržaja.
Location
Location of this site was not found. If you know the address of this site, please contact the administrator.