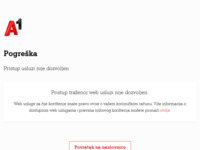 Nastava matematike u srednjoj skoli - Robert Gortan
Visits: 730
Added: 15.1.2010.
http://web.vip.hr/robert.gortan.vip/
Description
Kao što i sam naslov kaže, na stranici se nalaze brojni materijali vezani uz Nastavu matematike u srednjoj školi - Zadaci za vježbu, rad na satu i domaću zadaću; Zadaci za pripremu mature i upisa na fakultete; Mala galerija slika vezanih uz nastavu matematike, Informacije i zadatke s natjecanja Klokan bez granica, Pojedinačna i ekipna natjecanja iz matematike, Festival matematike ...
Location
Location of this site was not found. If you know the address of this site, please contact the administrator.