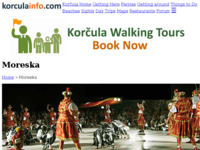 Moreska - Traditional Sword Dance - Korcula
Visits: 2174
Added: 17.3.2004.
http://www.korculainfo.com/moreska_korcula.htm
Description
The town of Korcula is well known for Moreska – a traditional sword dance and drama that was common through the Mediterranean in 12th and 13th century. The dance follows the story of the conflict between the Red King versus Black King ....
Location
Location of this site was not found. If you know the address of this site, please contact the administrator.