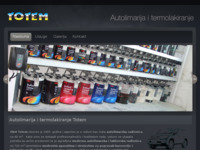 Autolimarija i termolakiranje Totem
Visits: 608
Added: 1.4.2010.
http://www.autolimarija-totem.hr
Description
Totem je moderna autolimarska i lakirerska radionica na 720 m2 opremljena modernim aparatima i strojevima za popravak karoserije i lakiranje vozila. Posebna specijalnost je popravak težih karambola i kamiona, restauracija oldtimera te ravnanje oštećenja tuče bez potrebe lakiranja
Location
Location of this site was not found. If you know the address of this site, please contact the administrator.