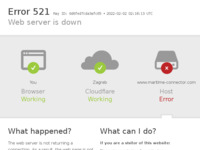 Internet gateway for maritime employment
Visits: 3620
Added: 6.6.2008.
http://www.maritime-connector.com
Description
Internet site specialized for maritime employment. The pages are dedicated to seafarers to browse all posted seagoing jobs and to maritime companies to post their actual vacancies on ships, cruisers, shipyards, platforms or any other working place in maritime industry.
Location
Location of this site was not found. If you know the address of this site, please contact the administrator.